Houston Chronicle
Texas Magazine
Sunday, June 24, 2001
---

The Houston Chronicle did a large feature article on Houston Area Live Steamers with 11 color photos (many full-page) in its Texas Magazine.

A beautiful full-page cover photo (small internet photo here) of member John Hannah at the throttle of his Mikado was photographed by Dave Einsel.

The online text of the article "For the Love of Trains" was written by Daniel J. Vargasild.
Houston Chronicle-This Week-Cyfair
Wednesday, May 2, 2001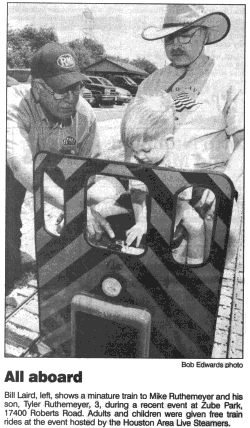 TEXAS HIGHWAYS MAGAZINE
August, 2000

---
MAKING TRACKS
Mini trains make for big fun at Zube Park near Hockley.


Every third Saturday, March through November, Zube Park in northwest Harris County echoes with clickety-clacks and the delighted cries of kids and grownups as they "ride the rails" aboard finely crafted scale model trains. Built by the Houston Area Live Steamers, the steam engines and cars are one eighth the size of real cars and locomotives.

In 1992, HALS and Harris County Precinct 3 Commissioner Steve Radack made a pact to use some vacant space in Zube Park as a site for the modelists to work, lay track, and practice their model-railroading skills. As a result, HALS members agreed to provide free rides to the public once a month-and a new attraction was born. Zube Park is at 17400 Roberts Rd., just off US 290 east of Hockley; call 281/391-1967. To learn more about HALS, visit their Web site: www.hals.org/.
---
Reprinted with permission from Texas Highways Magazine.

HALS IN THE NEWS. . .
In an editorial in the August 1999 issue of Modeltec magazine concerned with public school children being educated to become the next generation of machinists and hobbyists, special mention was made of HALS' recently acquired S.T.E.A.M. HUD Community Development Grant:

"New ground, however, is being cut by the Houston Area Live Steamers, who recently received a $24,000.00 Federal grant, the first ever awarded a live steam club, which will put the group in partnership with a local high school to help with the practical education of 50 vocational students. The program begins in January, 2000, and will cover the spring and fall semesters. Funding will be provided to enable the students to buy raw materials for machine shop projects, and to spend time with HALS mentors at the club track site, teaching valuable life and work skills.The club will, of course, earn a positive bonus in terms of community relations, but--and I guarantee you this--the members will earn an unforgettable experience in terms of working with some fine and intelligent youth. No, maybe they won't all become hobbyists right away, but then, who knows what a life of hands-on will bring.

Our commendations to the officers and members of HALS for this insightful program!"
---
Reprinted with permission from Modeltec Magazine, August, 1999, George R. Broad, Editor.